You love ramen.
You also enjoy working hard with your colleagues.
That is why we need someone like you.
We are always looking for new colleagues to work with us at ab-out co. From part-time workers to regular employees, we welcome anyone who loves ramen.
We also welcome people who are interested in eating our food, people who want to own their own store in the future and people who would like to try working overseas.
We aim to be a company where all employees not only learn practical work, but also can work energetically toward goals and grow as a person.
Our ideal employee
We want to see customers smile.
We aim to be a group of people who think that way.

If you have an adaptability that allows you to respond to the ever-changing wishes of customers, you will understand the importance of our work at ab-out and how truly fun it is.
Diligence

The capacity to apply the abilities you have acquired through daily work to new tasks and simplify work
Analytical
ability

The ability to keenly analyze what customers leave on their plates, which menu items are popular and what you can recommend, achieve your necessary sales objective and perceive from daily operations whether there is a problem in a restaurant
A spirit
of inquiry

The capacity to enjoy grasping the advantages and disadvantages of each department and the company's overall advantages and disadvantages in the course of carrying out your work in close coordination with other restaurants and employees
Participating
in
various matters

By hammering out various plans at a restaurant and working to communicate with customers, coming to an understanding of customers' important thoughts and feelings as they relate to corporate management. The ability to carry out numerical value management with a feeling of wanting to confirm projects' status and participate by proactively offering your own opinions.
Operating plans and the like overseas as well!
Acquiring a wide variety of experiences outside work as well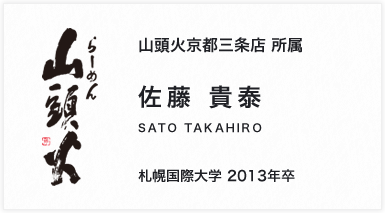 Q. Why did you decide to work at ab-about?

A. Because I thought my efforts would be recognized and because it is a growing company I would have many opportunities. Also, because the company is opening restaurants in various countries and regions, I thought I would be able to acquire a variety of experience outside of work too by visiting various locations in the future.

Q. Tell me what a typical day is like in your current job.

A. I serve customers in the restaurant, cook, stock products, and recently, order ingredients and furnishings, among other things. I get to work at 9 a.m. Then I begin preparing to open. We open at 11 a.m. I handle customers and cook the products.
At around 2 p.m., after the lunch time peak, it is less busy so I do such things as stocking and replenishing ingredients. When that is done I take a break.
When my break is over I return to my work, and around evening, I am relieved by other staff and leave work.

Q. How is the atmosphere at your workplace?

It is very friendly and full of interesting things and staff members I like. When you don't try to hold yourself back and cheerfully and energetically communicate, you can adapt yourself quickly and that helps make it easier for you to do your work.

Q. What at work has been difficult and what has made you glad?

A. There are lunch-only set meals and seasonal menu items, and each has different toppings, amounts of noodles and boiling times, so those were difficult to memorize.
Also, I was not accustomed to using a knife so the training in that was difficult.
I was very happy when customers told me "It was good" and "thank you" as they were leaving and I felt motivated.
Also, when the store manager and senior staff recognize my improvement and praise me, I feel both happiness and a desire to work harder.

Q. Do you have any advice for employees who will come after you?

A. People tend to look for a company that fits them when looking for a job, but I felt that it is important to look for an environment that fits you.
To do so you should go to many companies' informational meetings and compare and contrast as many companies as possible.
Requirements
Starting salary

180,000 yen
Working days

Starting from September 16th, 2019, we offer 2 days off a week.
Leave

annual paid vacation, special leave for weddings and funerals, and summer vacation
Benefits

retirement scheme, subsidized meals, uniform lending
Fringe benefits

various insurance provided, subsidized English studies, support for acquiring a chef's license, social gatherings
Educational system

new employee training (3 months), restaurant manager training, manager training
Locations

Sapporo, Sendai, Kanto, Kansai, overseas (United States, Canada, Hong Kong, Taiwan and Singapore)
Job type

Kitchen staff (Generally speaking, these employees will start out in restaurant management.)